All good things must come to an end.
I am, regrettably, leaving Nantucket in the morning.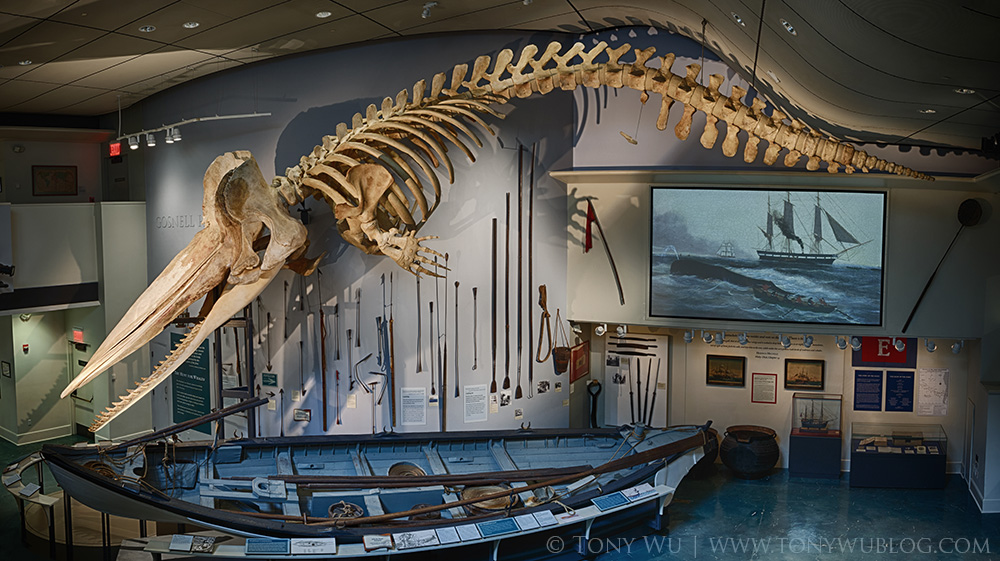 The main reason that I made my first extended trip to the northeast United States in decades was to give a talk on 8 July at the Nantucket Whaling Museum, organised by the Nantucket Historical Association (NHA).
That talk sold out relatively quickly, so the NHA arranged for a repeat performance a couple of nights later…which also sold out. (Such gluttons for punishment the people here are!)
I had initially thought about doing a general presentation with photos, video and audio covering a range of large cetaceans, but given the hour or so allotted to me each evening, plus the unique history of Nantucket, I decided to focus 99% of my presentation on sperm whales. Turned out to be a good decision.
To prepare, I finished Moby Dick (finally! after 29 years), and I also read The Great Sperm Whale (Richard Ellis), In the Heart of the Sea (Nathaniel Philbrick) and The Wreck of the Whaleship Essex (Owen Chase)…all of which I'd recommend if you're interested in sperm whales. And I re-watched the 1956 Moby Dick movie too.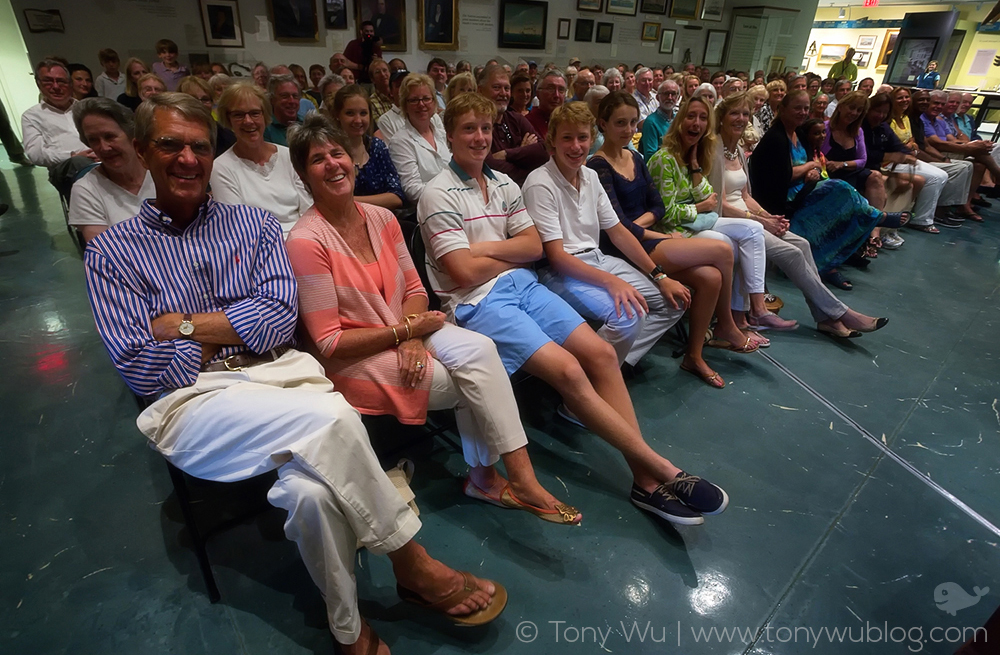 The attendees on Monday and Wednesday last week comprised a wide range of people, from some who were well-versed in the ways of Physeter macrocephalus and other cetaceans, to a bunch of adorable kids who asked fabulous questions. (If any of you read this…keep asking lots of questions! It's the best way to learn.)
Regardless of age, most people giggled during my "sperm whales pass gas often and poop a lot" discussion…the pinnacle of cross-cultural, interspecies entertainment.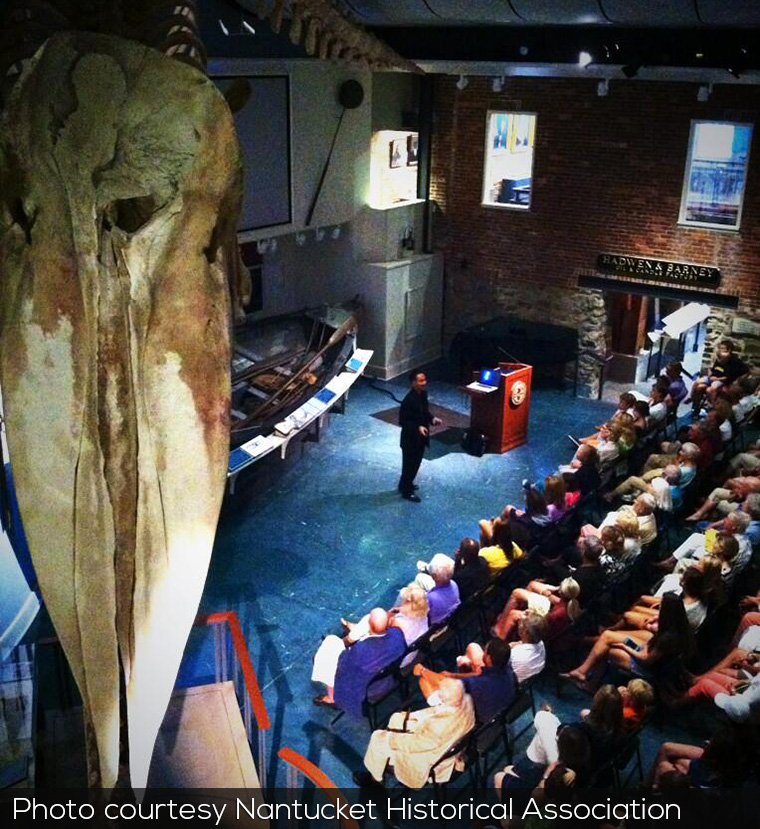 During my stay, I also had the opportunity to visit the Nantucket Field Station associated with the University of Massachusetts, where I gave an impromptu talk to a small group of students. It was a more intimate setting, and I rambled eloquently(?) about a bunch of stuff, not just sperm whales…in the hopes of corrupting stimulating a few young minds.
All kidding aside, it was a pleasure and an honour to share a few of my experiences, images and stories with so many interested people. Sperm whales (and the ocean's wonderful residents in general) have been really good to me. Sharing what they've shared with me is the least I can do for them.
This trip took me quite a bit out of my way and cut into the minimal down time I allow myself, but I'm so glad I visited Nantucket! I hope that I'll have the good fortune of doing so again at some point.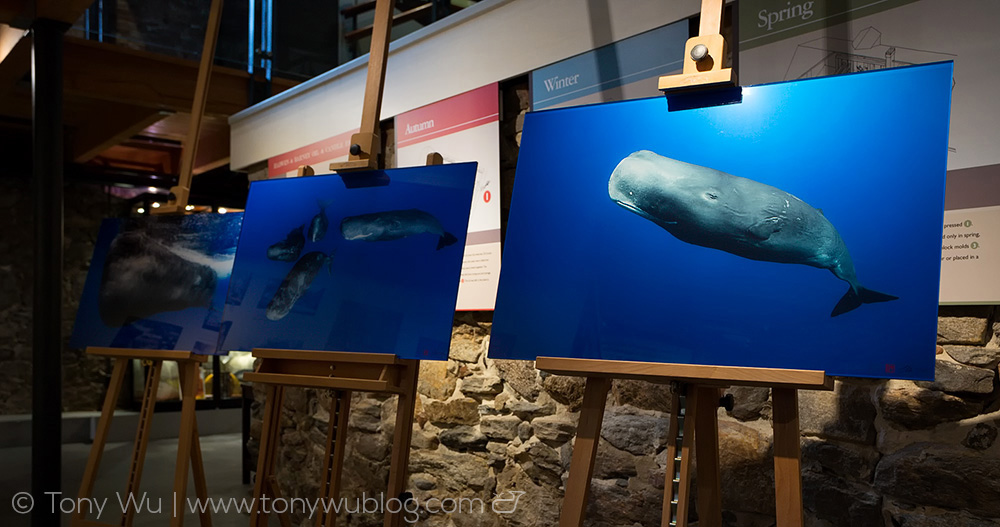 On a personal level, I had the opportunity while in Nantucket to meet lots of fantastic people, and also to spend time with friends I haven't seen in dog years.
Two friends from high school travelled all the way to Nantucket (from Virginia and California) to say hi, and I stayed with a university friend (from my days of learning Japanese) and his family. In an increasingly small world, friends with such big hearts make all the difference.
Finally…a big "Thank You!" to the Nantucket Historical Association; N-Magazine; Nantucket Radio 97.7 ACK FM (WACK-FM); the Nantucket Field Station - University of Massachusetts Boston; and of course…my friends, old and new…for the warm welcome, fascinating discussions, and lots of laughs.
I'll wrap up this post with a few photos from the Nantucket Whaling Museum, which is definitely worth visiting if you're in the area. Up next...I'm off to the Arctic to go chase my own white whales.