Winter is coming.
Down in the southern hemisphere anyway...which means two things: First, humpback whales (Megaptera novaeangliae) are back in the waters of the Kingdom of Tonga, and second, it's time for me to make my annual migration south to hang out with them.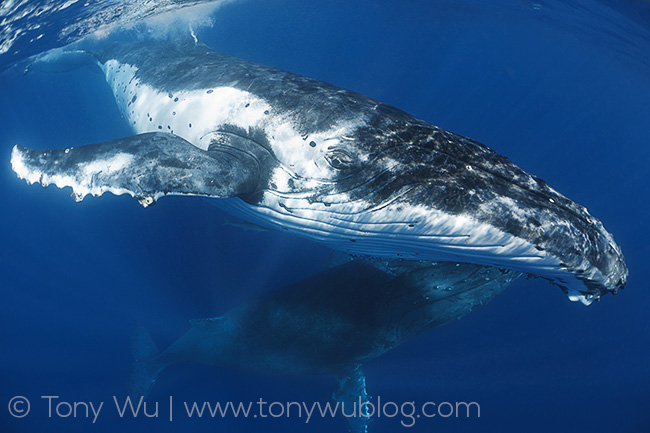 This will be my 13th season with the whales, a bit shocking when I stop to think about it.
I'm not sure exactly how much time I've spent on and in the water with the humpbacks in Tonga over the years, but a quick estimate (using both my fingers and toes to count) suggests something over 80 weeks. That's a lot of squinting, swimming, and sunburn!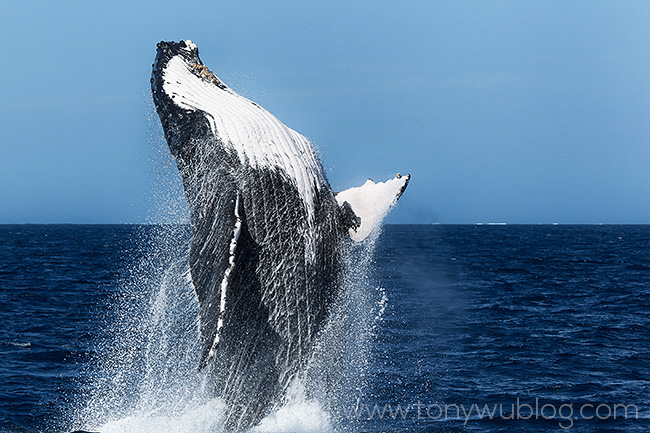 If you recall from my posts during the 2013 season, I relaxed a bit and wasn't quite as rigorous about counting humpback whale calves as I'd been in previous seasons. I figured that after establishing a count of 52 unique calves in 2012 with GPS points for four consecutive seasons showing that encounters with mother/ calf pairs were distributed all around the Vava'u islands...I'd proven my point. Namely, that there are more than just a half dozen or so calves in Vava'u waters each season (which used to be the popular wisdom), and that the whales have not been driven out of the inner waterways of the islands (which is unfortunately a falsehood many people still assert with no evidence).
Even though I slacked off a bit last season, old habits die hard, and I did enough work to keep a few running statistics (see write-up here). I photographed and ID-ed 17 calves during 29 days on the water, which resulted in a calf/ boat-day ratio of 0.59. A pretty good showing for the whales, actually, as you can see from this graph: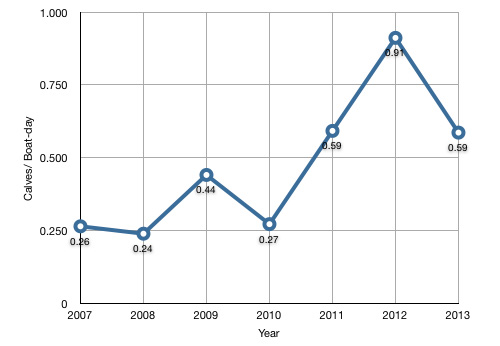 So the quandry I'm facing as I pack the last bits and pieces before I head to the airport is whether I want to keep going with the calf count or not.
On the one hand, though I've demonstrated the two points I referred to above beyond reasonable doubt, the numbers and patterns that have emerged are interesting in themselves. For instance, it certainly seems that there are good years and less-good years in terms of how many baby whales show up around Vava'u. There are also other possible patterns emerging from my data about the ratio of female to male calves, the ratio of mother/ calf pairs accompanied by escorts, etc.
And then there is super-mommy, the female humpback that I've confirmed with six calves during the period 1998 to 2013, with the help of several people who have been kind enough to contribute sightings, photos and information leads (Kirsty Bowe, Nonie Silver, Karen Stone, Michele Hall, Claudia Jocher). It would be fantastic to document her with more calves in coming seasons.
On the other hand...collecting, backing-up, processing and assembling all the photos and other data is a lot of work! We're talking hundreds of hours for a given season. Painful.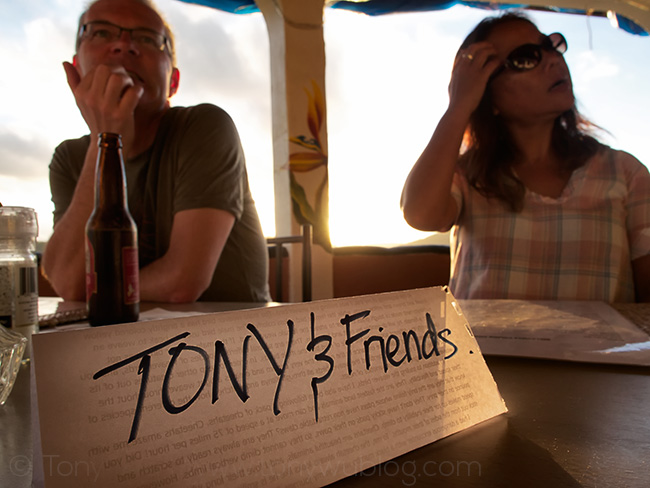 In any event, one thing I really look forward to each season is having the opportunity to spend quality time with friends. It's nice being in the South Pacific, with minimal access to internet and no background noise from incessant yammering on TV. Instead of being overwhelmed with emails and depressing world news, I get to enjoy moments like having dinner with my friend Moses, which is, let's just say, an experience!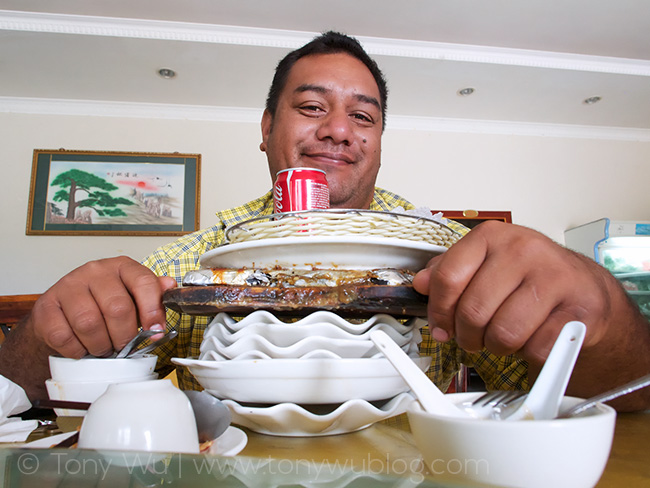 Or spending time with visiting friends, no matter how puerile or dorky: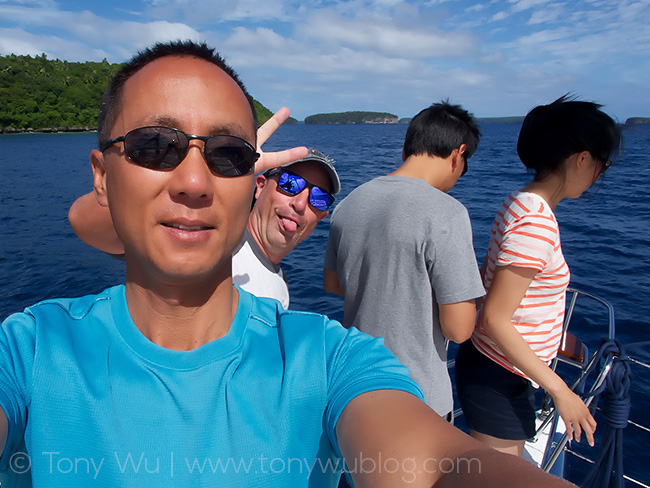 There are also those priceless, peaceful moments, ones that can't be conveyed in words, like this sunset at Mounu Island (in the photo are Allan, who hates having his photo taken, and Otto, who loves having his photo taken: example 1, example 2).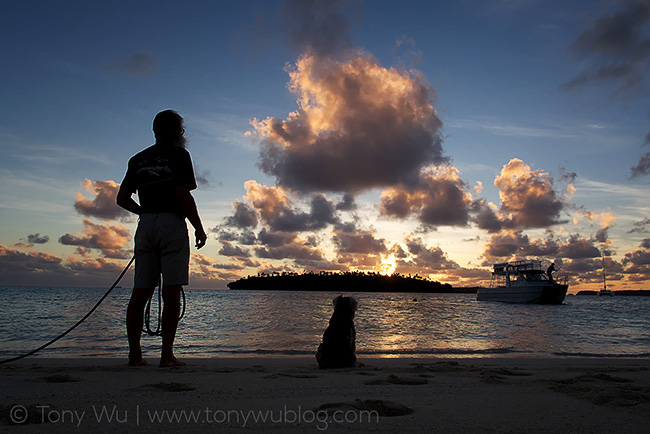 Speaking of Mounu, if you're thinking about planning a last-minute excursion to Tonga, there are some bungalows available in mid-September. Besides being a great place to be based for whale-watching, the private island is perfect for chilling out and getting away from it all. Plus...you can take photos of Otto, and/ or annoy Allan by pointing a camera in his general direction. Both pastimes are fun, though one entails a measure of personal risk, so it pays to be able to run quickly 😊
Equipment-wise, I'm taking both my Canon and Nikon systems like I did last year: Canon 5D Mark III bodies in Zillion housings, and a D800 in a Nauticam housing, both with Pro One domes.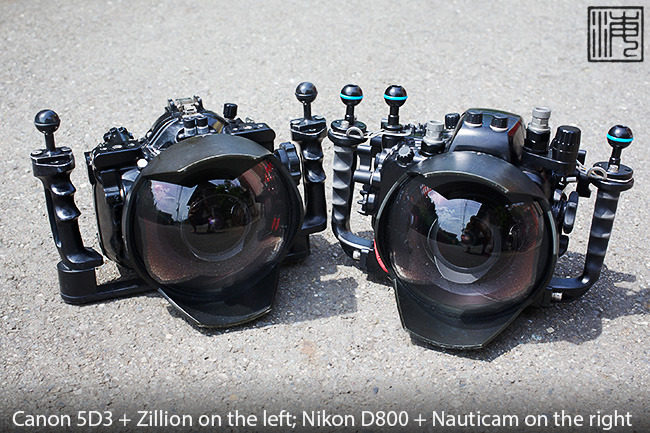 There are pros and cons to each of the camera systems, so I pick and choose when to use which camera. In general...for blue-water stuff, the 5D3 is my go-to camera, as the overall package is light, with low in-water resistance, and the Canon AF locks-on reliably in low-light, monochrome conditions. When there's good light with consistently cooperative subjects (meaning I don't have to swim forever), I pull out the D800 for the extra resolution and better overall sensor performance.
Please bear in mind, that's "in general." Often I pick cameras and lenses just based on mood or instinct.
Incidentally, the Nauticam D800 housing pictured above is the newer, lighter version. Nauticam reduced the housing mass and profile a few months ago, meaning the housing I'm carrying this year is lighter than the one last year. I had a chance to use the housing when I was in Palau, and also when I photographed the mating bamboo sharks in May. The reduced weight and lower drag are noticeable, perhaps not if you're sitting waiting for a frogfish to yawn, but certainly when you're lugging cameras long distance and keeping pace with things that make you swim and swim and swim.
Yes, running two systems in parallel is a pain-in-the-behind, but having more, rather than fewer, tools available has proven useful. I'm also carrying an Olympus OMD-E5, but just for topside use. I love the mirrorless format. I can't wait until the AF can keep up with the conditions and subjects I shoot.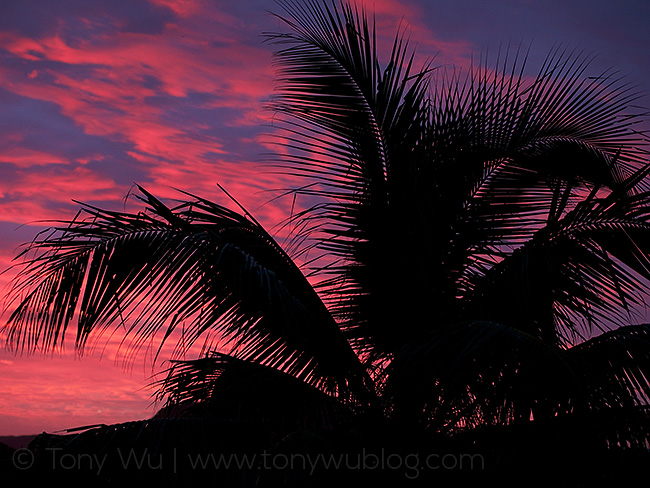 Well, that'll do it for now. I'll post updates as and when I can from Tonga. So far, I hear that it's somewhat cold this season, but the whales arrived on schedule, relatively early actually, and there have been some excellent encounters already.
For the people who will be joining me this season...Don't panic (much). You only have to put up with me for 10 days or so.
And in case you're contemplating joining me next year, I've posted a tentative 2015 schedule in my Trips section. Please get in touch if you're interested!