I keep telling myself that I should slow down, but somehow, that just doesn't happen.
2015, for example, has been crazy-hectic so far: I've been on the road 89 out of the first 140 days of the year. I've just come back from speaking engagements and photography in Shikoku, and I'm heading out again in a little over a week. Catching up on correspondence and other life stuff is proving quite the challenge, but I'm hoping to grab some time late at night to process and post a few recent photos.
In the meantime, I'd like to share this photograph sent over by the New Bedford Whaling Museum: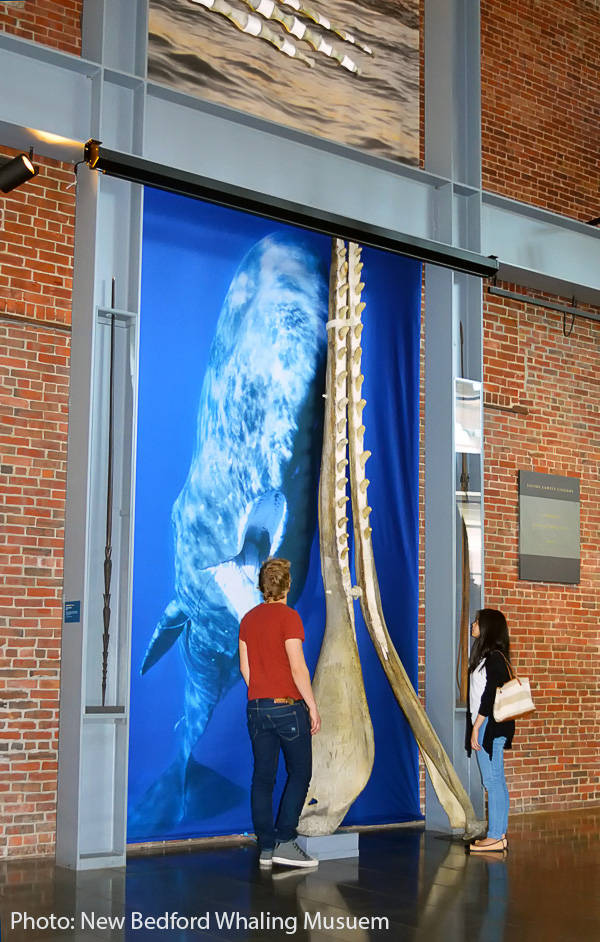 It's part of a new display, with the jawbone of a sperm whale set in front of a photo of an actual whale. By comparing the size of the people to the jawbone, you can see just how big a sperm whale can be, or...depending upon one's point of view...how puny humans are.
For reference, the jaw comprises say a third to a quarter the length of a sperm whale. So take that jaw size and multiply by 3-4x for a rough idea.
The photograph behind the jawbone is one of my earliest sperm whale photos, from my first-ever encounter with Physeter macrocephalus. I took the photo with film (if you know what that means).
This particular individual, which was probably a youngster, slammed me with sonar, placed me on its head, took my left fin in its mouth. We then became best of friends and played for over three hours.
It's a long story that requires ample time, space (for theatrical effect), and alcohol (to enhance theatrical effect) to relate in full, but the conclusion is that this whale changed my life.
If you're in the New England area and have some time, visit the museum to learn more about sperm whales and our history with them.