I'm in Tonga again. My twelfth season observing and documenting the annual gathering of humpback whales (Megaptera novaeangliae) in these waters.
I've actually been in the Kingdom since the middle of August, taking some time to settle in, say hi to friends, enjoy a bit of quiet time before heading out on the water.
It's been a relaxed, peaceful start to the season, a nice break from the normally hectic pace of activity each year and a much-needed breather after a punishing travel schedule so far in 2013.
My updates this season will differ somewhat from my posts in recent years, as I'm not doing a full-blown calf count. There are a number of reasons, chief among which is my desire to have a break from spending hundreds of hours logging, reviewing and organising data.
Given this context, it's been fantastic during my first week+ on the water being able to relax and enjoy myself without the self-imposed pressure of getting multiple photos for ID purposes. It's kind of nice having time to chat with friends, read books, stroll on the white sand beach, etc.
Though my season has just started, there are a few things I've noticed that I think worth sharing.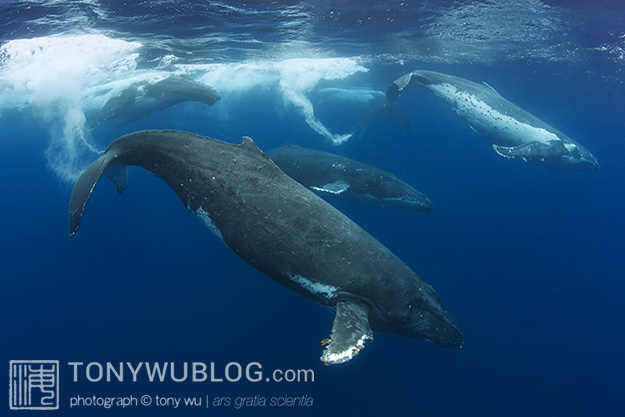 First, it's a wet season. Or perhaps more accurately, there's more precipitation this season than there was during 2012, but that's partly because last year was exceptionally dry.
To give you an idea…it rained for at least part of the day (i.e., when I was on the water) on three of my first five days on the water this season, and it's rained almost every evening/ night. As another metric…there's already been more rain to date this year than there was for the entirety of 2012.
The longer term perspective, however, suggests that 2013 will, in fact, probably look relatively normal once the season is finished. Rain records for the area going back to the year 2000 show that the rainfall in 2012 was exceptionally low, with so little rain that we had to watch our water consumption.
…which, of course, relates to the visibility.
Last year, we had the best visibility underwater I've ever seen here, particularly early in the season.
It was so clear in places that I could see whales approaching from many tens of metres away (underwater), a big help when you're trying to track moving cetaceans.
The visiblity now isn't as good as it was last year at this time, but given the rainfall, it's not that bad either. I suspect the relatively mild winds so far this season may be a contributing factor (though the winds have picked up over the past couple of days).
Visibility in the inner waterways and to the east isn't anything to whoop-whoop about, but that's to be expected given the fringing reefs and abundance of sand.
In deeper water and to the west, we've seen some really clear water, which I hope stays the case for the balance of the season.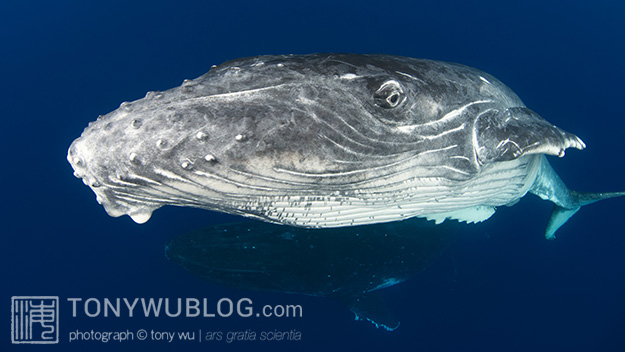 The second point of note is that I think we're reverting to the mean. Let me explain.
Both 2011 and 2012 saw bumper crops of humpback whale calves pass through this area. I was able to photo-ID 52 calves in 2012 and 48 in 2011. More importantly, the metrics I use for assessing the density of humpback whale mother/ calf pairs were really high for both seasons (See my 2012 humpback whale calf count for details).
After the spike in both the absolute number and density of humpback whale calves in 2011, I anticipated a drop in 2012, because…well…it takes a lot of energy (i.e., food) and work (i.e., metabolic investment by female humpbacks) to produce and rear a calf, so the odds seemed to favour a slowdown of sorts after a banner year in 2011.
In other words, I thought the female humpbacks would want/ need a break.
As it turned out, there was an even bigger crop of babies in 2012…which just goes to show how well I understand female humpback whales (or perhaps just females in general).
Anyway, fast-forward to 2013, and I really expected (before arriving here) the upward trend to tail-off. Three consecutive seasons of massive increases in the baby tally? Not something I'd bet on.
Well…it's still early in the season, so I won't make a definitive statement quite yet. But the "feel" of the season, for lack of a better descriptive term, is that we will see fewer calves, fewer friendly whales in general in fact, than in the two previous seasons.
This isn't to say that 2013 won't be a good season. There are definitely whales and mother/ calf pairs around, enough that we're having quality encounters.
My observations and conjectures about the prospective qualitative nature of this season are relative to the previous two seasons.
I'm sort of going out on a limb, as my sample size of a week or so on the water isn't really substantial enough to draw a conclusion, but the "feel" I get at the beginning of every season has proven pretty accurate in recent years.
Still…I could end up being totally wrong, which, I guess, is just part of the learning process: Observe. Evaluate. Speculate. Observe again. Hit Forehead with Palm. Repeat.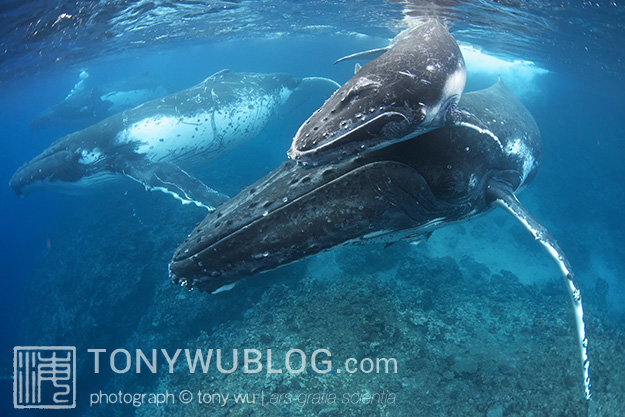 One other thing I'm wondering about at this stage relates once again to baby whales.
We've come across a lot of whales in single and pair configurations over the past few days, whales that are not terribly interested in interacting with us. This in itself isn't unusual, but many of the whales concerned seem to be on the small side.
So I'm pondering…with many hundreds of babies churned out over the past few seasons here…might it be the case that the proportion of sexually immature whales here this season is high? Like really high? Higher, perhaps, than ever before?
As an indication, I photo-ID-ed 155 calves from 2009 to 2012, and I certainly didn't see/ ID every calf. Probably not even close.
Compare my 155 baby-tally to the most recent humpback whale population estimate for Tonga that I'm aware of, which is 1,485 whales…and you begin to see what I mean.
The 1,485 figure was published in 2006, based on observations by researchers (Baker, Madon, Russell et al) from 1999 to 2003, so the data is a decade old. But still, if I counted 155 babies in the past four years (keep in mind there must have been many, many more), then the proportion of immature juveniles relative to the entire population must be quite substantial, to say the least.
I'm not sure that there's any way I can figure out what the immature/ mature ratio is, but if my notion is correct, and the baleen baby bonanza in recent years has translated into a horde of disinterested youth, so to speak…it would certainly be good in the grand scheme of things, as such a state of affairs would suggest a growing population and a bright outlook for the future.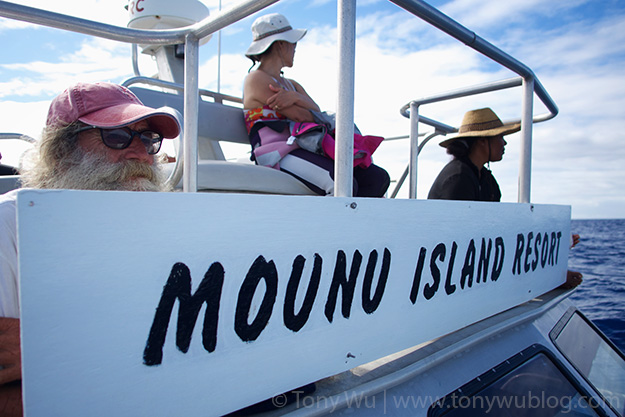 As if to underscore my juvenile whale conjecture, we found a singer today, one that happened to be a very small, and seemingly insecure, individual. When I approached in the water (at 20m depth or so), the whale swished around a bit and sauntered off without even a cursory "good day."
Rude. Just plain rude.
Anyway, there's a decent chance that it was one of the whales kicked out of a massive heat run we were with, comprising 12 whales at last count (yes, 12).
Which brings one more thing to mind…there seem to be many heat runs around, at least five that I'm aware of since my first day on the water. I've mused before that it might make sense for there to be an inverse correlation between high-calf- and high-heat-run-seasons.
Something else to ponder over the coming days.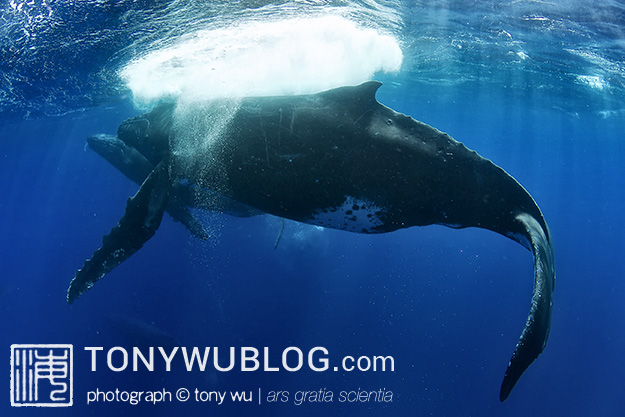 After wrapping up with the humongous heat run and impolite singer on their final day here…my friends Colin, Nana, Kaori and Juanita will be on their way home soon (it was great spending time with you and sharing good times and adventures!).
I'll be taking a bit of a break for the next couple of weeks, going off to explore some of the other beautiful islands in the Kingdom.
I will be offline for most of that time, but I'll post again when I'm back to an internet connection.
Ciao.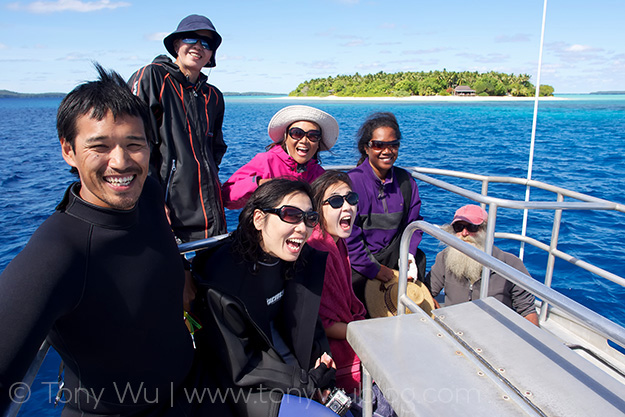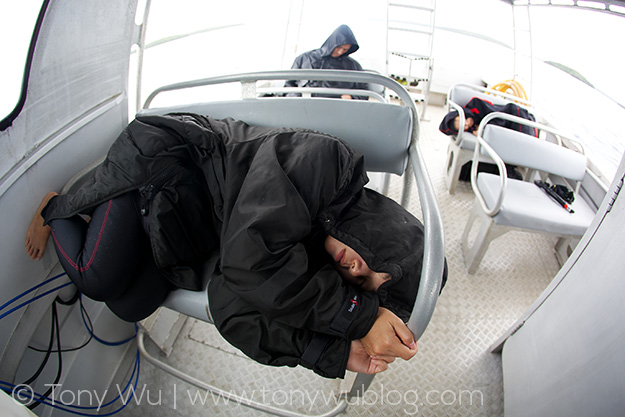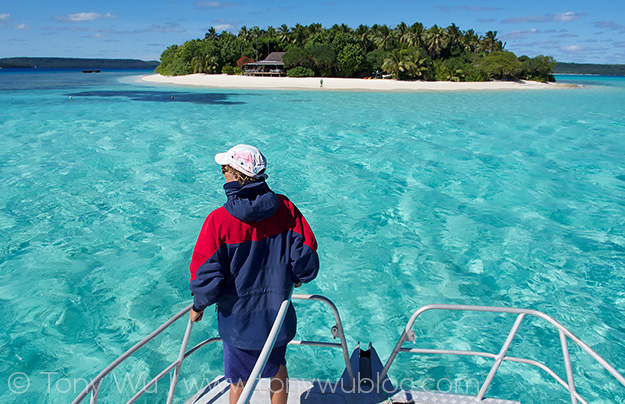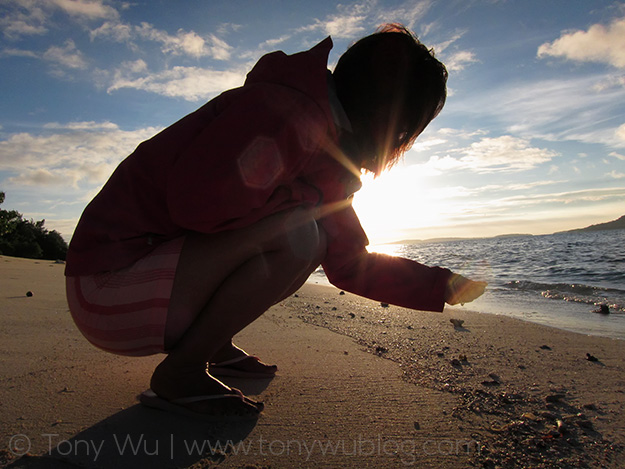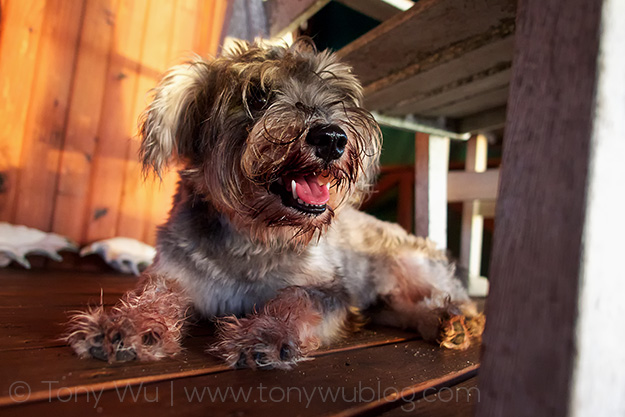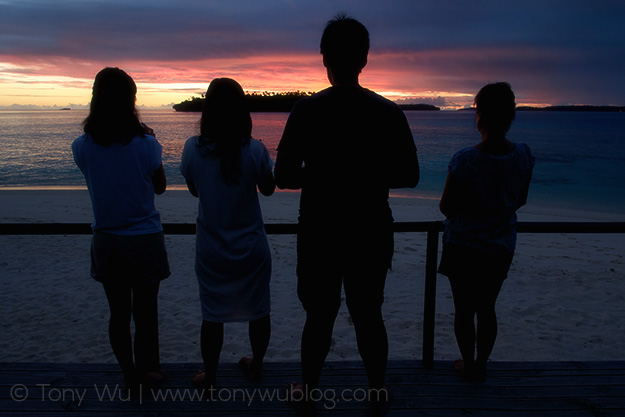 Related Posts:
Humpback Whales in Tonga 2013 | Part 2
Humpback Whales in Tonga 2013 | Part 3
Humpback Whales in Tonga 2013 | Part 4